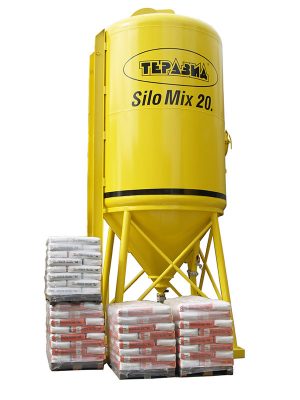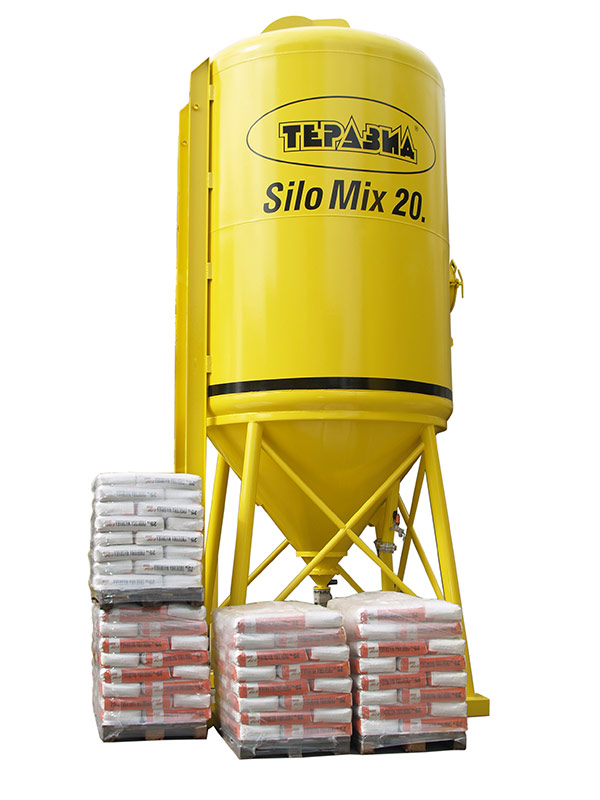 Silo equipment Terazid
For the convenience of its clients, ''Terazid" EOOD offers high-quality gypsum and lime-cement plasters for machine application into the mobile silo equipment.
The silos are delivered to the construction site and they are filled at a place with the help of a specialized equipment that is factory filled with 16-18 tons of material.
Before the delivery to the construction site, an even platform should be provided, with the necessary capacity for weight and supplied with water and electricity. For the problem-free unloading, it is necessary to have secured access for the heavy trucks that should be kept clear.
Products that are delivered in a mobile silo equipment: Gypsum plaster ''X-Top 2000" and ''R-Light 1000"
High-quality dry mixtures for machine application of one-layer inner plasters on walls and ceilings. They are suitable for application over all types of construction bases. The normal thickness of application of the plaster is about 20 mm, and is observed to have a minimum thickness of 10 mm. In need of smoothing the large roughness, the ''Lime-cement plaster Terazid'' should be used.
Lime-cement plaster
This is a dry mixture for implementation of one-layer inner lime-cement plaster for walls and ceilings. It is also suitable for machine and manual application.
The plaster is suitable for application on all types of construction bases. The base must be clean, dry and free of grease. In smooth bases, the base is preliminary primed with ''Terazid G-22'' (Betonkontact) .
More information about the products and the possibilities of the silo equipment, as well as about the terms and conditions for using it, you can receive from our sales representatives.